Mediterranean Chicken Risotto
Sarah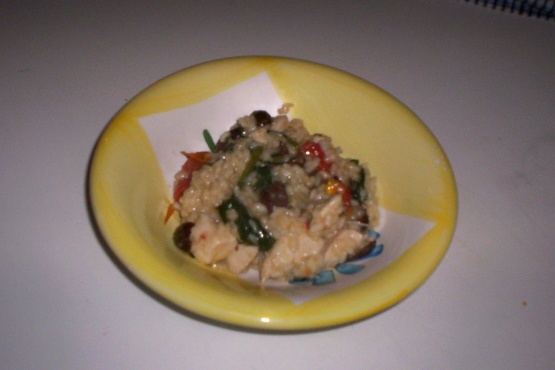 Baby spinach, semi-dried tomatoes and olives are a great combination in this risotto. As I have only just discovered the delights of olives I am finding more and more ways to use them. Just to note, a few people making this have found that one cup of semi-dried tomatoes is too overpowering, so you may want to cut it back to half a cup. (Please not: The sun-dried tomatoes listed are actually semi-dried.)
An awesome risotto! It seemed like a healthy meal overall. I used low-sodium chicken broth and doubled the baby spinach. Don't skimp on the liquids or you will have a dry sticky risotto.
Keep stock simmering.
Heat oil in large pan and add chicken, cook until almost cooked through and add garlic, cook for another 1-2 minutes.
Add rice and stir until grains are coated with oil and glistening.
Add white wine and stir until it is absorbed by the rice grains.
Start adding the hot stock 2 ladles at a time, stirring between additions until the liquid has been absorbed.
After the last addition of stock add baby spinach leaves and stir until wilted.
Add semi-dried tomatoes and olives, stir until heated through.
Add 2 Tbsp Parmesan cheese and stir through.
Serve with extra Parmesan if desired.