Mediterranean Chicken Paella
Dr. Jenny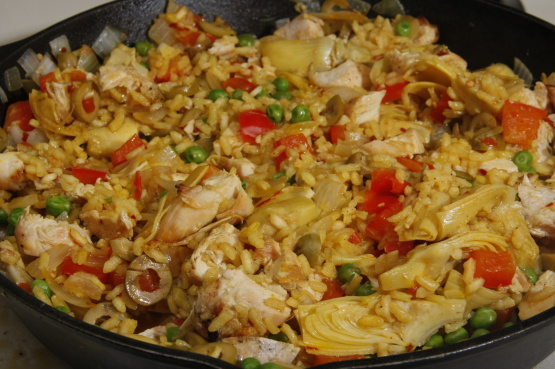 This is a quick and easy recipe to use up an leftover chicken, this is also good with leftover turkey too. For brilliant yellow rice sub 1/2 teaspoon tumeric for the saffron if desired! Adjust all the amounts (except the rice and liquids) to taste.

Top Review by Satyne
Delicious! Fairly sure I made this as written, think I threw in some extra veg that needed using. One of the things I love about these sorts of dishes is that you can add a few things without taking away from the final result. Thanks for sharing.
Heal oil in a large skillet over medium heat.
Add in onions, garlic, bell pepper and chili flakes (if using) saute for about 3 minutes.
Add in artichokes and olives; cook, stirring for 2 minutes.
Add in broth and water; bring to a boil.
Add in the uncooked rice, salt and paprika; mix well, then add in saffron; season with black pepper cover and simmer over medium-low heat for about 15 minutes.
Add in the cooked chicken or turkey and peas; mix to combine; cover and cook for another 5-7 minutes, or until the liquid is absorbed and the rice is tender and the peas are cooked through.
Season with more salt and pepper if desired.
Remove from heat; let stand for 5 minutes, then fluff with a fork.