Mediterranean Chicken for Two
awalde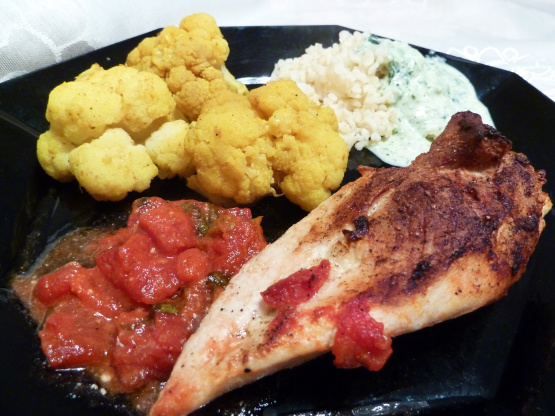 I transformed this recipe from a magazine and it turned out really good. It only takes 30 minutes. It is flavorful, easy and light.

Top Review by awalde
I prepared 3 thick chicken breast in this way and shared between 4 of us!
This was delicous and easy. I still had some Greek feta and olives. As the dish was ready my daughter still wasn't at home and I added 1/2 cup of white wine to keep it moist.
It came out delicious and we didn't have leftovers, of course!
Preheat oven to 375. Cut a 2-inch pocket in the thickest part of each chicken breast.
In a small bowl combine the Feta and the chopped olives, then stuff ½ of mixture into each pocket.
In a nonstick skillet, heat 2 Tbs. olive oil on medium to high heat.
Season the chicken with pepper and add it to the skillet, cooking 2 minutes on each side or until brown.
Transfer to an oven safe baking dish, drizzled with 1 Tbs. olive oil and bake for 18 minutes.
In a bowl mix tomato, kosher salt, onion, garlic, basil and parley.
When chicken is 5 minutes from being finished, put the remaining olive oil in the skillet, add tomato mix and heat through.
Serve chicken with tomato mix on top.