Mediterranean Chicken Breasts
gailanng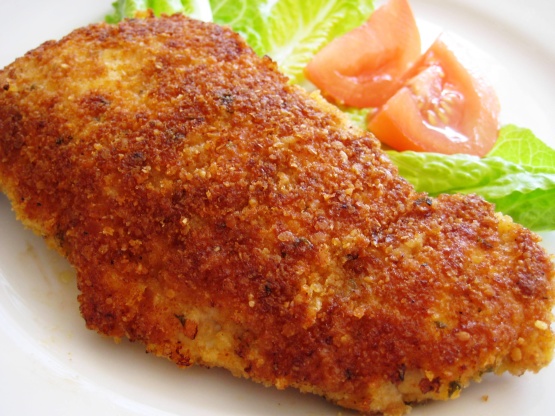 Adapted from a recipe in 'Terrific Chicken: 100 great meals in minutes'. If you're craving crispy chicken, this Mediterranean-style chicken is fairly quick to make and relatively low-fat! Serve it with a pasta or rice side dish and your favourite salad greens.

The only substitute was the cheese, I had parmesan but no romano. I baked them for 30 minutes at 325 and they came out tender and tasty. Thanks.
Mix together the first seven ingredients (from the cheese through to the black pepper) on a piece of waxed paper - saves on washing up later! - or if you prefer on a plate; put the oil in a shallow dish.
Dip the chicken breast halves in the oil, then coat them evenly with the cheese/breadcrumb mixture.
Spray a non-stick skillet with cooking spray and set over a medium heat; add the chicken and cook, turning once, for 15 minutes, or until golden brown and the juices run clear.