Mediterranean Chicken Breasts
gailanng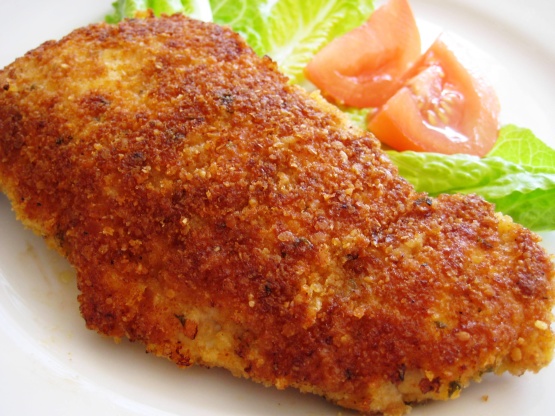 Adapted from a recipe in 'Terrific Chicken: 100 great meals in minutes'. If you're craving crispy chicken, this Mediterranean-style chicken is fairly quick to make and relatively low-fat! Serve it with a pasta or rice side dish and your favourite salad greens.

I have to say I altered the recipe, in that I used bone-in chicken breast, and then baked it instead of frying it....the bone-in chicken was what I had, and baking it fit in with the other things I had to do. This recipe adapted perfectly to this! I used shredded romano cheese, which I really had to press onto the chicken to get it to stick, but it worked wonderfully! I noticed it getting a little brown while cooking, so I made a loose tent with foil so that it wouldn't burn, but would still stay crisp. I ended up with wonderful tasting, crispy chicken! Made for Best of 2009 tag! Thanks for sharing your recipe.
Mix together the first seven ingredients (from the cheese through to the black pepper) on a piece of waxed paper - saves on washing up later! - or if you prefer on a plate; put the oil in a shallow dish.
Dip the chicken breast halves in the oil, then coat them evenly with the cheese/breadcrumb mixture.
Spray a non-stick skillet with cooking spray and set over a medium heat; add the chicken and cook, turning once, for 15 minutes, or until golden brown and the juices run clear.