Mediterranean Chicken Bake
rpgaymer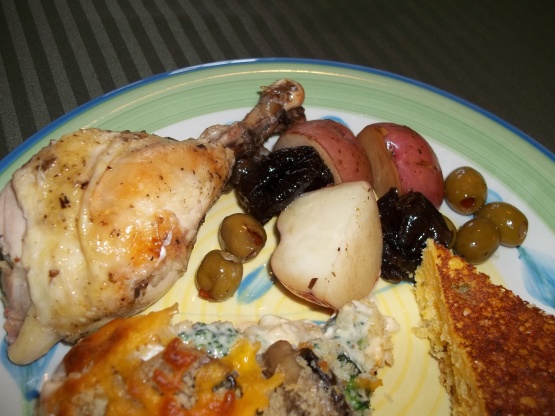 This recipe is taken from my Woman's Day Cookbook. No rice in this recipe -- it uses red-skinned potatoes accompanied by olives, prunes, red wine vinegar and of course, chicken. Sounds wonderful!
Great recipe! I didn't realize that I needed a dutch oven until the last minute, so I had to roast the chicken in a shallow pan instead as I do not have one. This was not a problem- I just kept basting the chicken and veggies until the meat thermometer said it was done. The potato, prune, and olive mixture is the star of this this dish. I love how sweet and salty everything was because of the brown sugar and reduced broth. Super-good and comes highly recommended. [Made & Reviewed for PRMR]
Heat the oven to 400 degrees. Grease a deep, lidded roasting pan or an oval 8-qt. dutch oven with 1 teaspoons oil. Rinse the chicken and pat dry. In a small bowl, mix the garlic, oregano, remaining 3 teaspoons of oil, salt and pepper. Rub the mixture all over the chicken. Tie the chicken legs together with kitchen twine. Tuck the wing tips under the back. Put the chicken into the pan and add the broth, vinegar, and olives. Sprinkle with brown sugar. Cover and bake 1 hour, then scatter the potatoes and prunes around the chicken. Cover and bake 30 - 45 minutes longer, stirring the potatoes once, until the drumsticks move easily, the juices run clear when a thigh is pierced with a sharp knife and the potatoes are tender.
With a slotted spoon or spoons, remove the chicken, potatoes, prunes and olives to a deep serving platter. Pour the liquid left in the pan into a 4-cup measure. Skim off and discard the fat. Serve the juices with the chicken.