Mediterranean Cheese Strata
jus2470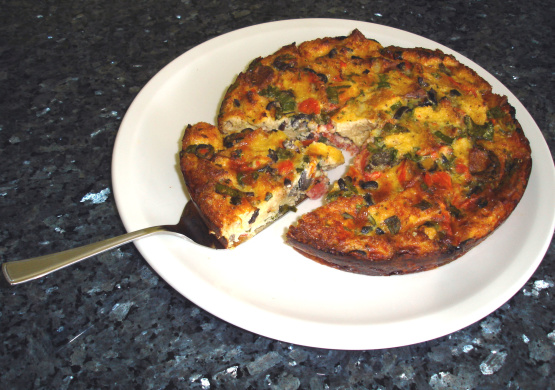 This is really delicious, like a quiche but healthier.

This is great easy food to take along on a picnic. I made the recipe as posted, except for adding freshly ground black pepper and a little parmesan. I had to double the cooking time - it was more like 45 minutes than 20 in my oven. Thanks for posting Latchy.
Preheat oven to 180 degC.
Lightly butter 24cm pie plate.
Place the semi dried tomatoes on a paper towel and pat to dry the oil off them.
Cut them in half.
Whisk milk and eggs and garlic together, add all the other ingredients except the bread and mix well.
Add the bread and stir until moistened.
Transfer the mixture to the prepared pie dish.
Let it stand until the bread absorbs most of the custard, pressing several times to submerge the bred cubes, about 5 mins this takes.
Bake uncovered until light brown and knife inserted into the centre comes out clean, about 20 minutes.
Cut the strata into wedges.
Serve with a salad of mesclun mix.