Mediterranean Brussels Sprouts
Parsley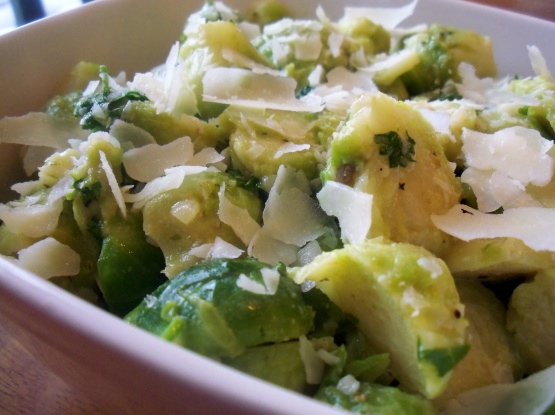 This has become our favorite way to eat brussels sprouts. Some mods made on the Whole Foods recipe. I love the idea of steaming vegetables to get the pure taste coming through. After that, all you need is a dressing or sauce to make it into any style you want. We use an electric steamer to steam the brussels sprouts. And using the machine, it takes about 10-11 minutes of steaming for our taste.
Trim and clean Brussels sprouts, cut into quarters, and let sit for at least 5 minutes to bring out the health benefits.
Fill the bottom of a steamer with water about 2 inches. Steam Brussels sprouts for about 10 minutes. If you like them less cooked, steam for 5-7 minutes only.
While Brussels sprouts are steaming combine all dressing ingredients except Parmesan cheese and lemon zest in a small bowl.
Transfer steamed Brussels sprouts to a large bowl and toss with Mediterranean Dressing while still hot. Top with Parmesan cheese and lemon zest.