Mediterranean Black Olive Bread
Katzen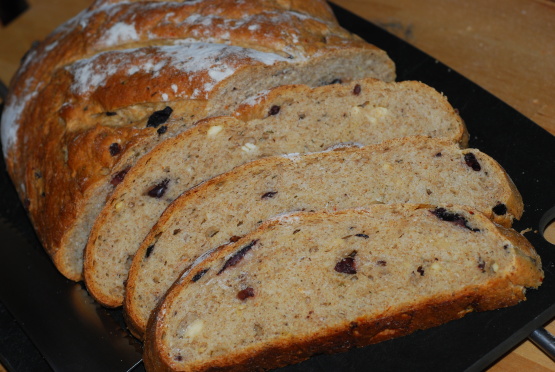 This bread takes some time to prepare but is well worth it.

I took Karen's advice and did the first 6 steps in my ABM, and then picked up on Step 7. I made some changes, using sun-dried tomato oil instead of the olive oil, and using 1/4 cup kalamata olives & 1/4 cup sun-dried tomatoes instead of the 1/2 cup olives. The result was ABSOLUTE DELICIOUSNESS! And the bread looked amazing. Thank you, thank you, thank you!
In a bowl, mix together flour, yeast, sugar, salt, garlic powder, italian seasoning, black olives, olive oil, and water.
Turn out dough on a floured board.
Knead until smooth- about 5 to 10 minutes.
Let rise about 45 minutes, until it doubles in size and punch down.
Knead for another 5 to 10 minutes an let rise for 30 minutes, until it doubles in size.
Round the dough on kneading board.
Place dough upside down in a bowl lined with a lint-free, well floured towel.
Let rise until double in size.
While the bread is rising for the third time, put a pan of water in the bottom of the oven.
Preheat oven to 450 degrees.
Gently turn loaf out onto a sheet pan that has been lightly oiled and dusted with cornmeal.
Bake loaf at 450 degrees F for 15 minutes.
Reduce heat to 375 degrees and bake for 30 more minutes, or until done.