Rita1652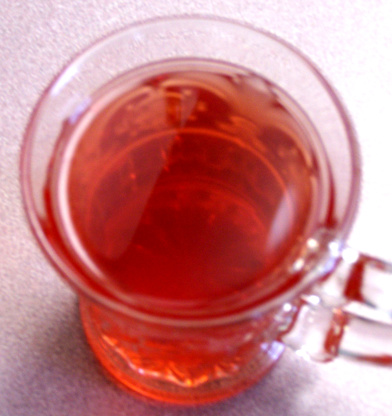 In my search for some natural medicinal recipes, I found this one that claims to help emulsifie fat, help with urinary infections and respiratory infections. You can drink this cold or warm. If you use the regular green tea, you can add a small pinch of any of the spices that are in the Chai tea, for added flavor. They include- ginger, cinnamon, cardamon, allspice, nutmeg, and clove. I used the green Chai tea. It smells wonderful and is really quite enjoyable.

This is a great tea! I used a green tea and added the chai spices. It was great to use only what I wanted in there. The steeping time was spot on, much longer and it would be bitter. Made and Reviewed for Comfort Cafe - Vitameatavegamin - Thanks! :)
Bring one pint of water to a rolling boil. Insert your tea bag and steep for 3 to 6 minutes.
Pour into a one quart container.
Add two cups of unsweetened Cranberry Juice.
Store in the refrigerator and use within three days.