Mecklenburger Lentil Stew
teresas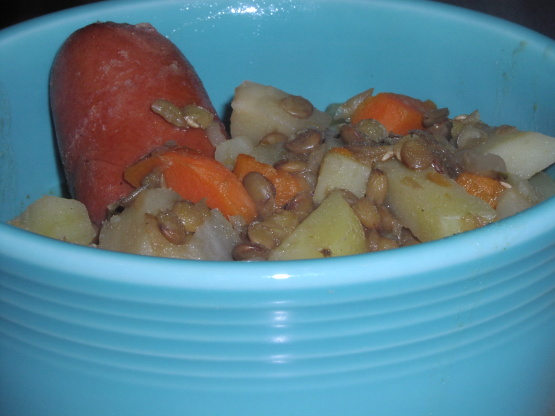 This is a recipe from Northern Germany. If you have ever wondered what to do with those big german hot dog things called Bockwurst... here is an idea! This Stew is vegetarian until the Bockwurst is added, which is right at the end, so it is a great one for pleasing everyone!

DH absolutely loved this...such a quick and easy dish to prepare...he enjoyed all the little sides to serve in it...this is really a stew type versus a soup...it's on the thick side...I used knockwurst in it...thanks for posting...Made for Fall PAC 2011
To make the stew, peel and cut the vegetables into chunks and place them into a pan with the lentils and stock.
Bring to the boil and add the bayleaf and all spice berries. Check the seasoning and adjust salt if needed.
Simmer on a low heat for 30 minutes.
The bockwurst can either be placed on top of the stew the last 10 minutes or poached/ steamed separately if you want the stew to remain vegetarian.
The important bits are all served at the table:.
(Cider Vinegar, German or Dijon Mustard, Sugar, Bread).
Everyone can season the stew as they like it.
The sweet and sour is a must try, it is surprisingly good!
The bockwurst loves a bit of mustard, too.