Mechoul - Marinated Lamb Backstraps

This recipe featured on Australia's "Food Safari" on a Moroccan show they did. They are simple to prepare and taste delicious and very refreshing when served with some minted yoghurt.
Directions
Put lamb in a bowl, add rest of ingredients and, using hands, combine to cover all of lamb.
Refrigerate for at least 1 hour.
Grill to medium rare on the bbq.
Don't forget the minted yogurt.
Reviews
Most Helpful
ABSOLUTELY delish as can be! I LOVE this recipe! Only thing I did was omit the salt, true, As was told if added before I cook, would affect taste too, Don't know if that is correct, but thought I would mention, As highlighting this GREAT recipe IS my intention! Minted yogurt sauce is a MUST, TRUE! YUM!!! YUM!!! YUM!!! SO healthy AND good for YOU! Thanks

Amanda, this was delicious. I was looking for a backstrap recipe for venison and found this one. I did it with the venison and it worked out brilliantly. Thanks so much for sharing! It was the perfect amount of spices.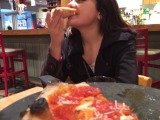 I made and reviewed this back when it was posted, but somehow my review is missing-oh well, I'll try again. This was wonderful and much enjoyed by Russ and I. It's so simple but the results are stunning. I can't remember what I had with it, but I seem to remember couscous and minted yoghurt.

Summer Central