CoCaShe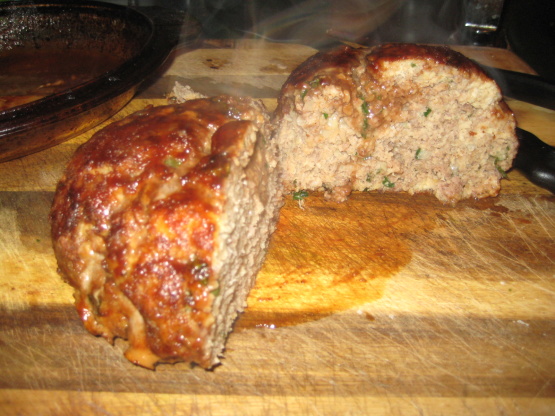 A different type of Meatloaf. We love this and it is great all year round. In winter we serve it with mounds of creamy mashed potatoes and vegetables on the side and in summer it is lovely served with a salad and fries. It is also delicious the next day reheated or cold in sandwiches or on toast. I also double the sauce sometimes if we want extra. But this makes a LOT so maybe if you wanted more you could make 1½ times the sauce.

This meatloaf was really good, basting it with the sauce kept it nice and moist. I used ground turkey instead of the sausage meat. I used about half of the sauce after the first 30 minutes,then drained the pan again and re-basted after another 25. I'll be making this again, thanks for sharing it! PAC 2011
MEAT.
Combine the sausage meat, mince, breadcrumbs, onions, curry powder, salt, pepper, parsley and egg in a bowl.
Beat until mixture is well combined.
Gradually add milk and water and continue to mix until smooth.
Place in a greased baking dish and bake in a moderate (180ºc) oven for 30 minutes.
Once the timer goes off pour off any excess fat that may have come out and pour the sauce over.
Return to the oven and bake for a further 45 minutes.
SAUCE.
Bring all ingredients to the boil then simmer gently for 5 minutes.