Annacia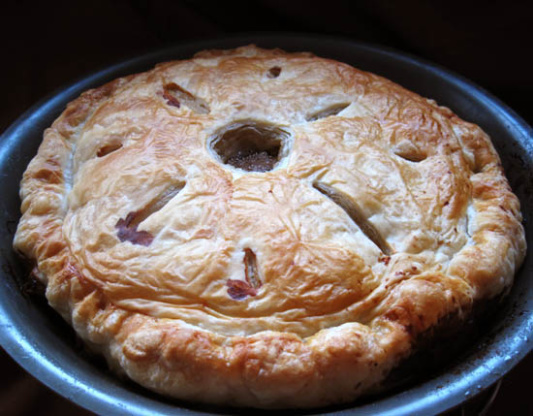 Simple and tasty. Uses ingredients I always keep in the pantry. Perfect cold as finger food for a picnic lunch or hot with vegetable for dinner.

We both loved this. lots of flavor here. I added salt, pepper and garlic to good effect. I found that I didn't have enough puff pastry to encase the meat as ask so I just used it for a top crust which actually worked out pretty well for us and I believe I would do it that way again.
In a bowl, place bread crumbs, milk, French onion soup mix, barbeque sauce, parsley, thyme and nutmeg. Mix well and leave for 5 minutes.
Add lean ground beef to the mixture and mix lightly until well combined.
Place 1 sheet of pastry on a baking tray lined with non-stick baking paper.
Spread filling evenly on top leaving a 4cm ( 1-1/2 inch) border of pastry.
Moisten pastry edges with water; place 2nd piece of pastry on top.
Seal the edges with a fork.
Brush top of pastry lightly with beaten egg.
Bake at 200 Celcius (392 degrees Fahrenheit) for 40 minutes until golden.
Serve hot or cold cut into squares.