PaulaG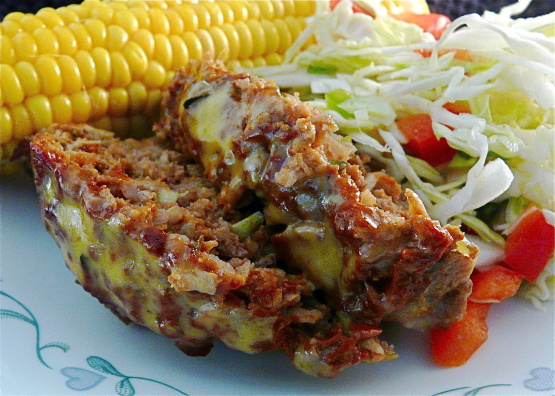 This is a spicy meatloaf that enjoys additional nutrition of zucchini and may just win over those who are on the fence about regular meatloaf. The zucchini helps to keep this meatloaf moist and from packing too tightly. The cook time does not include the rest time. *Must mince onion and chili pepper as they are not pre-cooked.

I enjoyed trying this recipe for the contest. I didn't know about the poblano until I read the directions while making it (sometimes I'm smart enough to read them as I make my grocery list! ;)). I used a jalepeno in keeping with Mexican theme and not preferring habenero for heat preference. Although I will probably not make this again, I wish I hadn't "free formed" it on the baking sheet as I couldn't get a decent "rise" effect as it kept succumbing to gravity; therefore, I would have used a mold such as a loaf pan to shape it -- I might have used a whip, too! Just kidding! Good luck in the contest!
Preheat oven to 350°F.
Combine meat, eggs, cornbread, poblano, onion, zucchini, bouillon, cumin, garlic, paprika, oregano, and chili powder.
Shape into a loaf with hands, place on baking sheet and top with 1/2 of enchilada sauce; bake 30 minutes.
Top with remaining enchilada sauce and 15 minutes more than top with cheddar cheese and bake an additional 15 minutes.
Allow to rest 5 to 10 minutes before serving.