Meatloaf: Hey Virginia! Mine is Better!!!
Prep 10 mins
Cook 1 hr 15 mins

Ha-ha, I do love the "Meatloaf: yes Virginia, there IS a great meatloaf" recipe, however I believe mine is just a hint better. You be the judge. I made this for my husband's birthday- party of 15, and everyone raved over it- so, hey everyone- give it a shot, I would love some feedback. I use dried onion as opposed to fresh because I didn't like the BITE of fresh onion, it's much more subtle yet still flavorful to use dried... you be the judge though- use 1 small fresh yellow onion chopped if you like. By the way- some of you may be wondering- this is NOT a 'sweet meat'... it may be confusing with all the brown sugar and sweetened condensed milk- but I assure you- this is not sweet- if you want to- just omit the savory sauce and make it on the side to use as a dipping sauce the first time around... I'm highly confident in this recipe.
Directions
Preheat oven to 325°.
Mix all ingredients thoroughly in mixing bowl and pat into a 9" round pie plate and pat flat.
Mix the "savory sauce" in a separate bowl and spoon over the meatloaf.
Bake in preheated oven for 1 hour and 15 minutes (sauce should be bubbling).
Enjoy!
Reviews
Most Helpful
Sweetloaf. I prefer the original recipe.

I have a recipe that I've used for years and we've been happy with it but the author of this recipe seemed so confident that I had to try this one. I was hesitant to use the condensed milk (sounds weird for a meatloaf) but I'm glad I did. Meat loaf is a bit on the sweet side but we liked it that way. Also loved the texture of it! Liked using the dried onions and avoiding all that chopping. On a whole, we loved the recipe and will use it again.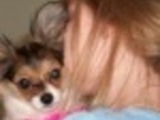 desert dinner, too sweet for us! My southern father in law, couldn't get enough- could be a regional thing.