gertc96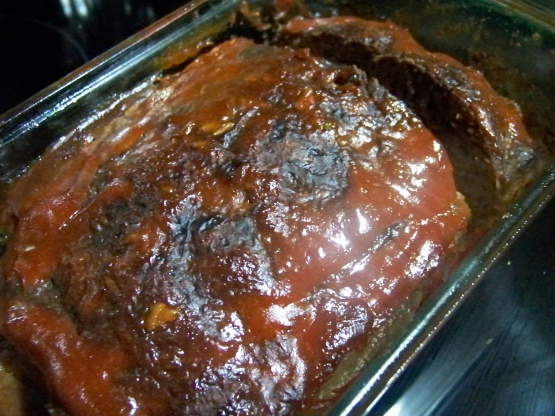 Need to feed a large hungry crowd? This will do the job! Enjoy!

Great recipe to feed a crowd! I wanted something to go along with my recipe #393251 after our sauerkraut-making, and this was it. The crowd was happy and not one single crumb was left. Germans mostly are used to "Falscher Hase" (false hare) which is a very simple kind of meatloaf, so they all were pleased to have something different, and I had to make about ten outprints of this recipe :D Thanks for posting!
In avery large bowl, combine the eggs, V8 juice, onions, celery, bread crumbs, soup mix, pepper and parsley.
Crumble beef over mixture; mix well.
Shape into four loaves; place each loaf in a greased 13x9-inch baking dish.
Bake, uncovered, at 350*F.
for 45 minutes.
Meanwhile, combine the ketchup, brown sugar and mustard.
Spread over loaves.
Bake 15 minutes longer or until a meat thermometer reads 160*F.
Yield: 4 meat loaves (8 servings each).