Alia55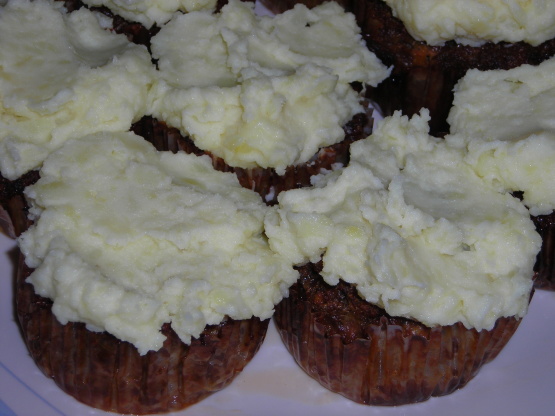 these are adorable. Great for kids and perfectly proportioned.
473.18

ml stale bread, cut into 1/2-inch pieces

473.18

ml milk, divided

44.37

ml olive oil, divided

1

onion, diced

907.18

g ground beef

1

egg

14.79

ml fresh thyme, stems removed

354.88

ml cups Italian parsley, diced, divided

2.46

ml salt

1.23

ml pepper

1.23

ml freshly grated nutmeg

59.14

ml ketchup

4

russet potatoes, peeled and cut into 1-inch pieces

113.39

g butter

236.59

ml half-and-half

1

beet, roasted (optional)

1

bunch fresh parsley, stemmed and finely minced (optional)

236.59

ml indian fennel candy (optional)
cooking spray
Place bread in a bowl.
Add 2 cups milk and toss with bread. Reserve.
In a sauté pan over medium high heat, add 2 tablespoons oil and sauté onions for approximately 4 minutes, or until they become translucent. Reserve.
In a large bowl, use your hands to mix hamburger, eggs, thyme, parsley, salt, pepper, nutmeg, soaked bread, onions and ketchup.
Set cupcake liners in a muffin tin, spray, and fill with meatloaf mixture.
Smooth tops so that they are flat.
Bake for 3/4 hours, or until fully cooked.
Boil potatoes in a large pot of water until tender to the touch of a fork.
Drain water and mash with butter and half and half. Mash until smooth.
If coloring potatoes, divide mashed potatoes into 2 separate bowls. Add 1 tablespoon grated beet to one batch and all the parsley to the other.
Blend until you have a batch of pink and a batch of green potatoes.
When meatloaf is done, "ice" half with pink and half with green mashed potatoes.
Sprinkle with Indian fennel candies and serve immediately.