Derf2440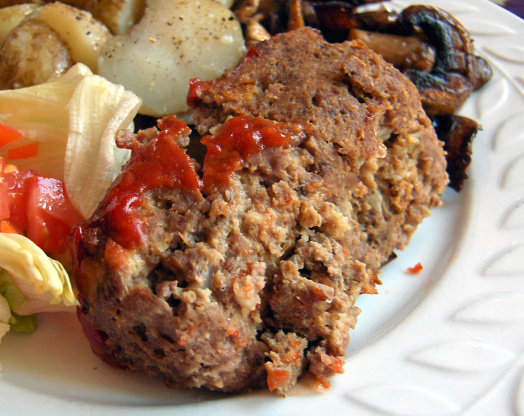 What can I say? It's a Meat Loaf! :) But it's one that my husband fiddled with for awhile and we've been enjoying it for years ever since.

Sorry but I had a little trouble with this meatloaf, it came out of the pan in pieces, I did use a non stick pan, anyway stuck it back together and glazed it , we did like the flavour, very nice and it did make great sandwiches for lunch the day after.
Preheat oven to 350 degrees F.
Combine the first five ingredients in a large bowl.
In a small bowl, combine the milk and eggs.
Add the milk/egg mixture to the dry mixture, mixing with a fork.
Let mixture stand 5 minutes.
Add ground beef; mix well with hands.
Pack lightly into a nonstick 9" x 5" loaf pan, then press firmly.
Bake meat loaf in a preheated oven for 1 hour.
Meanwhile, in a small saucepan over medium heat, heat tomato sauce, brown sugar, and mustard to boiling, then reduce heat to low to keep mixture warm.
Remove meat loaf from oven; brush lightly with some tomato sauce mixture.
Bake loaf 15 minutes longer until glazed.
Serve with remaining tomato sauce mixture.