Jamie M.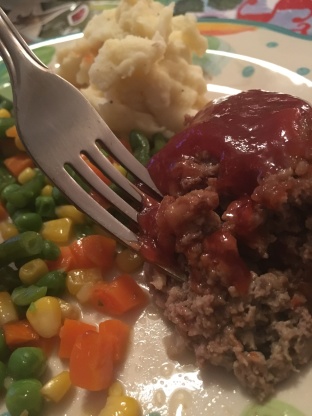 Yummy meatloaf that your kids will love! My mom gave me this recipe and my kids ask for it all the time. If you are short on time, you can make it in muffin tins and bake for only 30 minutes.
My first attempt at a meatloaf- it was a hit! Super soft, sweet and tangy!
Beat eggs, add milk, crackers, onion, salt, sage and pepper.
Add beef and mix well.
Shape into a 8 x 5 inch loaf and place in a cake pan.
Combine ketchup, brown sugar and Worcestershire and spread 1/2 to 3/4 of it over the loaf, use the rest for dipping.
Bake at 350 for 60 min, let stand 10 minutes before cutting.