seal angel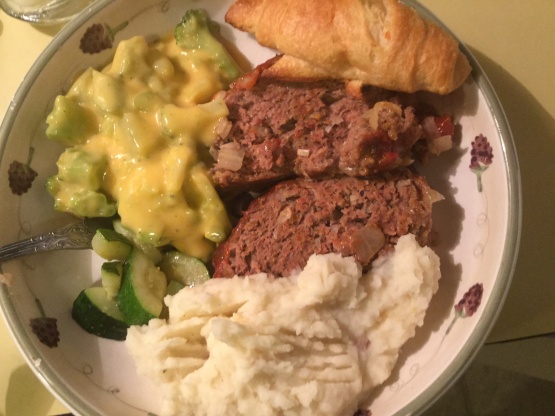 My family enjoyed the slightly spicy taste of this meatloaf. This recipe, submitted by a local DJ, was in our local paper.

Excellent !!! Best meatloaf I have ever made !! My father-in-law (who is a meatloaf conissieur) absolutely loved it(much to my mother-in-laws dismay. I made two 1 1/2 pound loafs and found the sauce quantity was plenty for both loafs. Definitely will make this one again.
Preheat oven 325 degrees Fahrenheit.
In a large mixing bowl, combine ground beef, cracker crumbs, salt, pepper, egg, onion and tomato sauce.
Mix lightly.
Shape into a loaf and place in a baking dish.
In a small mixing bowl, combine the ketchup, brown sugar, water, mustard and vinegar.
Brush the loaf with this mixture.
Place meat loaf in oven and bake 1 hour and 15 minutes, basting occasionally with sauce.