diner524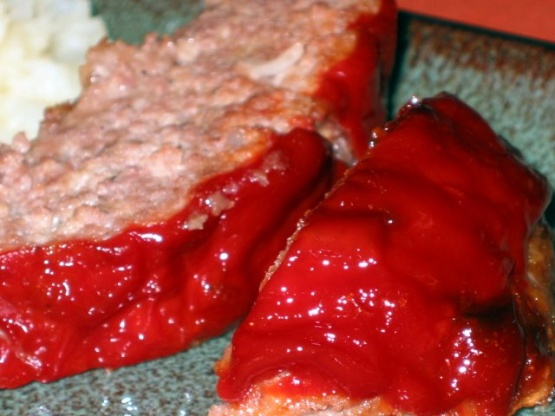 I used to spend hours making a very involved meatloaf recipe by Paula Dean. It was also expensive because it called for things like bacon. I will never make it again! I made this recipe last night and it blew the Paula dean recipe out of the water! I got rave reviews from my son and husband and it really was simple! The only thing I did differently was to add garlic powder instead of chopping garlic and I added a bit of fresh parsley because I needed to use it up. Otherwise, I followed the directions completely. If you are looking for an awesome meatloaf then stop right now. you have found it! Thanks for such a wonderful recipe that I will definately use over and over again!
Mix ground beef, onion, milk, crackers, garlic 1/2 teaspoon dried mustard and salt and pepper by hand, being careful not to overmix.
Place into glass bread pan.
Prepare topping mixture and spread over top of loaf.
Bake at 350 degrees for 1 hour and 10 minutes.
Remove from oven and let sit for 10-15 minutes before slicing and serving.