COOKGIRl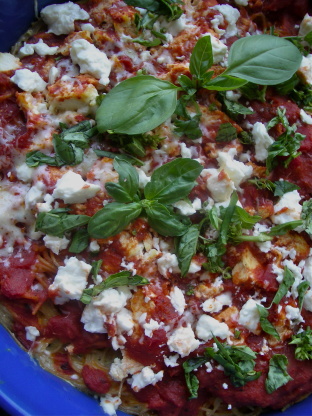 I found this in the paper quite a few years back. I believe it's a Mr. Food recipe, but it obviously was printed with errors, because my first attempt was a bomb. I fooled around with it and this is what I have. Feel free to add any additional herbs to the ricotta, are any other ingredients you may like, but this does make a nice meat-free entree. A sald and some crusty bread and you're all set!

Snowstorm outdoors so I decided I had all ingredients on hand and made for lunch today. Good recipe. I used a mushroom tomato sauce I had made and it tasted really good. Next time I would cut the spaghetti so it fits better in the pie plate and will brown better. Excellent recipe.
Toss hot spaghetti in large bowl with the butter.
Combine eggs and 1/2 cup grated Parmesan in a small bowl and stir into spaghetti.
Pour spaghetti mixture into a lightly greased 10 inch pie plate and form into a crust.
Bake approximately 10 minutes in a 350* oven.
Remove from oven and spread ricotta evenly over crust, but not to the edge.
Top with spaghetti sauce.
Bake uncovered for about 20 minutes at 350*.
Top with with shredded mozzarella,and bake until cheese melts - about 5 minutes longer.
Remove from oven and sprinkle with remaining 2 tablespoons of Parmesan cheese.
Cool 10 minutes before cutting.