loof751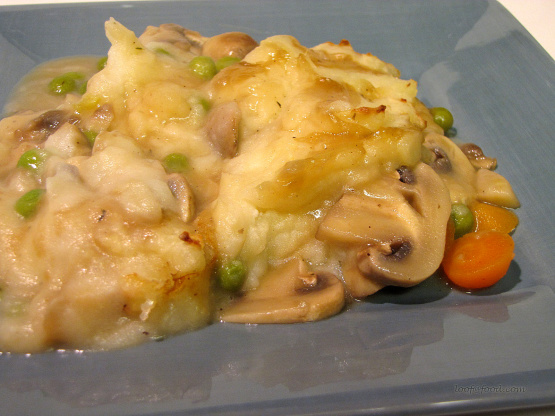 I love shepherd's pie, but I no longer eat red meat. I came up with this to fulfill my comfort food craving. It is vegetarian and vegan. Fiance and male guest both loved it.
I made this last night and it was I must say the best cottage pie I have had, I used the ketchup as suggested and frozen veggies, the gravy was just the right consistancy, I am keeping this one for sure!!
Preheat oven to 350°F.
Boil potatoes and parsnips until tender. Drain. Using a potato masher, mash potatoes and parsnips. Add soymilk, garlic, butter and mash until smooth. Salt and pepper to taste. Set topping aside.
Heat oil in a medium-large pan. Add onion and carrot to pan and cook on medium heat until onions are soft. Add mushrooms and meat substitute and sauté for 4 minutes.
In a small bowl slowly mix the flour into the vegetable stock. Add vegetable stock mixture and peas to pan.
Mix in Worcestershire, sage, red pepper. Cook down to a gravy like consistency. Pepper to taste.
Transfer filling to a oven proof dish, spread the potato parsnip mash over it.
Bake uncovered for 30-35 minutes.