Junebug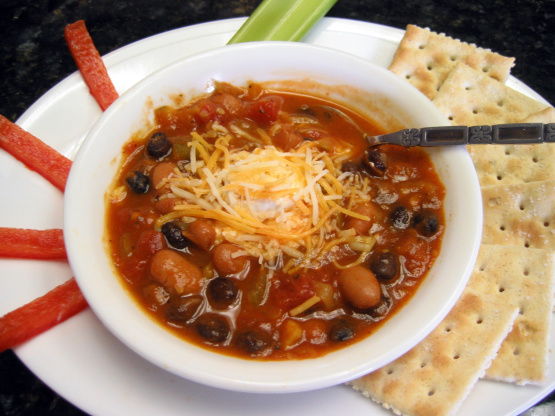 This is an adopted recipe that I've not yet had the chance to try. I have made similar vegetarian chilis before, and feel comfortable recommending it especially considerng the extant reviews, but would love more feedback from anyone else who might get to it before I do. Thanks!

Chili is one of my favorite foods and I recently became a Vegetarian so I had to find a way to still have it. I made a few changes though. I did a whole white onion, added Rotel tomatoes and green chilies, did a can of kidney beans, a can of Northern beans, omitted the bell pepper, and used a chili seasoning packet instead of chili powder. I'm letting it simmer for a couple of hours to develop the flavors. I'm so excited to eat some of it. I tasted it and its awesome so far. Thanks for the amazing recipe.
GARNISH: corn, chopped scallions, shredded Cheddar or Monterey jack cheese, or a combination, optional.
In a Dutch oven or 4-5 qt saucepan, heat oil.
Saute garlic, green pepper, celery, onion, carrot, and zucchini until crisp/tender, about 3 minutes.
As mixture cooks, stir in remaining ingredients.
Bring to a boil over high heat, then reduce heat to medium.
Cover and cook until heated through, about 5 minutes.
Top each serving with a garnish, if desired.
If you wish, set under broiler to melt cheese.
VARIATIONS: - add 1/2 cup whole raw cashews If reheating, add addt'l liquid, such as water, tomato juice, or veg stock.