mliss29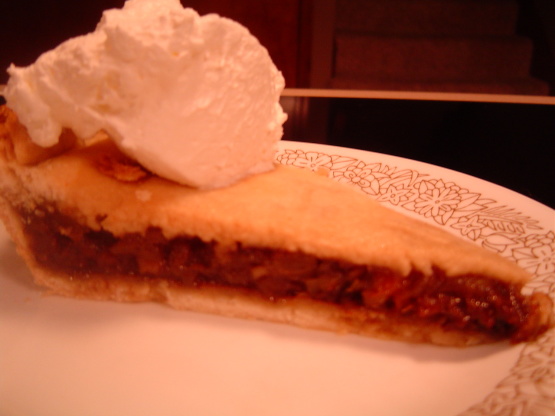 Mincemeat is a cooked mixture of minced foods and spices. Usually made with meat, this is a meatless version!

Excellent mincemeat recipe! I zested the citrus as suggested in the answer to my question posted on the boards, then only used the inner sections, discarding the peels. Then I threw the zest, sections and half of the apples in my food processor fitted with the blade. Pulsed that for a bit then put that all in the pot. The other half of the apples and raisins went through the same process. The only problem I had was my mixture wouldn't thicken. I had to let it simmer for about an hour after adding the sugar and spices, instead of the suggested 20 minutes. At first I thought next time I would use less cider, but I think the extra long simmering time helped the flavor and I think this was all worth it for the end result. The jarred mincement might be tasty, but it is expensive, and my husband said this was as good or better than any mince pie he has eaten. So, I will be using this recipe from now on. I made one pie and froze the rest of the filling. I will only get one more pie out this though, and I made a 9" pie, so I don't know what happened there. There's no way I had enough filling for 3 pies. Thanks for sharing this recipe! Now my husband can have his mince pie at home instead of waiting for his mom to make it! UPDATE: I used the rest of the filling for a Thanksgiving pie. I pulled it out of the freezer and kind of smooshed it gently into the crust...it never really freezes solid. I wanted to add that the reason I think I only got 2 pies out of this is because my pie plate is a 4-cup capacity, while there are some that are smaller (I have one that is 3 cup capacity also)...so if you use a smaller pie plate, I am sure you could get 3 pies out of this. Note: I baked my frozen filled one for about 40 minutes at 425 and had to shield the crust the last ten minutes. Unfrozen filling should take about 30 minutes. Thanks again for the recipe, Sharon!
Remove seeds from orange and lemon.
Using coarse blade, force fruit through food chopper with raisins and unpeeled apples.
Add cider.
Put in kettle and bring to boil.
Simmer, uncovered, for 15 minutes.
Add remaining ingredients, and simmer for 20 minutes longer, or until thick.
Makes enough filling for three 9-inch pies.