Meatless (But Very Cheesy) No Boil Lasagna
Karen..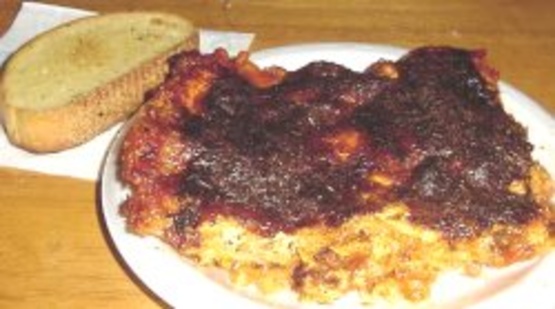 This is a cheese lovers dream! And it is a snap to put together.

This was incredible in more ways than one! So, so convenient PLUS delicious. I cannot believe how great it turned out and that the noodles were perfectly done (I was worried about that)! I hate boiling lasagna noodles...they always stick and fall apart, plus they are hard to work with. I have 2 suggestions...one is that I added some salt, pepper and Italian Seasoning to the cheese mixture and it had a great flavor. Another is when you buy your mozzarella cheese, do not get fancy finely shredded. That is what I did and the top got a little too brown (which I personally liked :). I am sure if I had regular shredded cheese, it would not have browned so quickly. Oh, I also used ricotta instead of cottage cheese, because we prefer it. This is a definite keeper and I will not make lasagna any other way from now on. P.S. This was not meatless for us, as I used Prego Mini Meatball spaghetti sauce!
Heat oven to 375*.
Saute the onion and garlic in oil briefly.
Add spaghetti sauce and water; heat through.
Mix the cottage cheese, and parmesan.
In 9x13 pan, layer 3 noodles, half the sauce, half the cottage cheese mixture, and half the mozzarella.
Repeat layers.
Bake, uncovered, for 1 hour, until cheese is light brown and bubbly.
Let stand for 10 minutes before cutting.