Meatballs With Fancy Sauce
teresas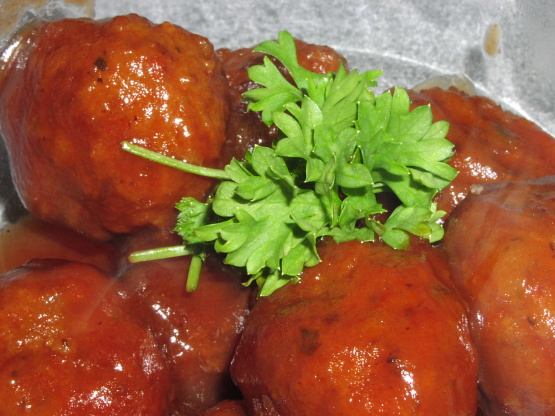 this sauce was made up by my spouse, and myself. An excellent sauce, for an appetizer, supper, or for a spaghetti dinner.

Made this great tasting dish according to the recipe ~ Most satisfying & enjoyable! Wehad it first served over brown rice, which we liked, & then served the leftovers over cheese tortellini, & that was GREAT! Thanks for a wonderful keeper recipe! [Tagged & made in Please Review My Recipe]
Combine first 4 ingredients in slow cooker.
Turn heat to high, and let mixture come to a boil, about 30-60 minutes.
Place thawed meatballs in with sauce.
Cover and cook on low for 2 hours.
Remove meatballs to a serving dish with slotted spoon and serve with toothpicks, as appetizers, or for supper.