Meatballs With Dried Cranberry-apricot Sauce
Prep 20 mins
Cook 45 mins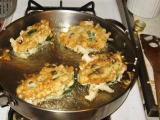 This sounded great so I plan to make it within the next week. The Recipe comes from the Traverse Bay Fruit Company (Traverse City, Michigan). Traverse City and vicinity is the World's Capitol for great fresh CHERRIES.
Directions
Mix together ground turkey, bread crumbs, onion, milk, egg, parsley flakes, poultry seasoning, Worcestershire sauce, salt and pepper.
Shape into one-inch balls.
Brown meatballs in a large non-stick skillet over medium heat.
Remove meatballs from pan and remove any fat from the pan also.
Heat ketchup and apricot preserves in the skillet, stirring until blended.
Add dried cranberries to the sauce mixture.
Add meatballs until coated with sauce. Simmer uncovered 30 minutes, stirring occasionally.
Most Helpful
We enjoyed this dish very much, I served it on top of my Lemony Brown Basmati Rice. I did everything as stated in recipe except that I added one tablespoon fresh lemon juice and 1/4 teaspoon poultry seasoning to sauce. Thanks, I will definitely be making again.
While I found the meatballs themselves tasty, I found the sauce a little lacking. I think it could do with an added punch of flavor....garlic & ginger maybe? As is it is just sweet. I thought the meatballs might also work well in a turkey gravy. They are tasty and the poultry seasoning, onions, etc imparted a stand alone flavor. I will make the meatballs again, but not the sauce. Thank you for sharing your recipe!