Meatballs Stuffed With Pineapple Chunks
Miss V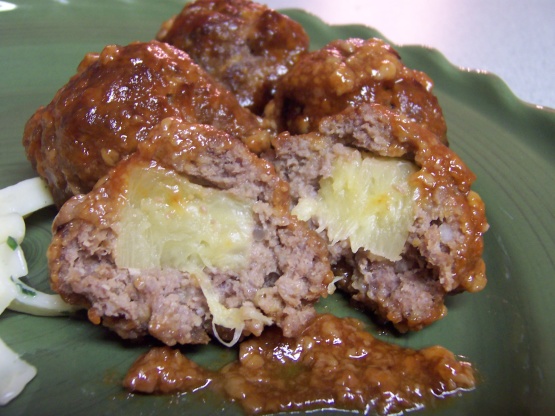 I got this recipe from a microwave cookbook I bought my mother 25 years ago. I love to serve these as appetizers for parties, and also with rice for dinner. This is a quick, tasty, easy recipe. Give it a try!!

My sister made this for me, and it was a nice taste. She had made it before, but since it was the first time I had tried it, I thought I would review it. I am definitely glad she left out the cloves. I am looking forward to bringing the recipe home and making it for my self. Thanks for posting.
Drain pineapple well, reserving syrup.
Mix together beef, egg, bread crumbs, onion, salt, cloves, allspice and 2 tbsp syrup.
Mold small amount of mixture around each pineapple chunk.
Place meatballs in 12x8x2" glass dish.
Cover with wax paper. Mirowave at High 4 minutes. Pour off meat juices.
Stir together 1/3 c reserved syrup, ketchup and brown sugar. Pour over drained meatballs and microwave at high 3 to 5 minutes longer, or until done.