Meatballs in Mushroom Sauce
VickyJ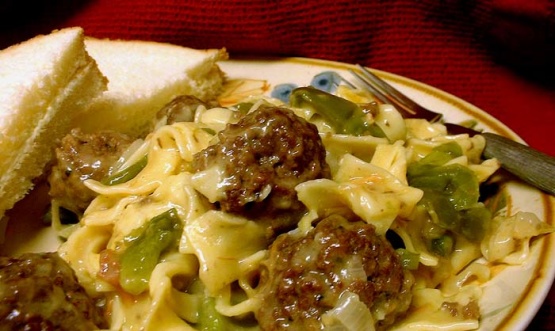 Great for potluck dinners!

Top Review by VickyJ
I had posted a review and a photo here, but either there was a glitch, or I didn't do something right. I'll type it in again. This was a very hearty meal. The meatballs were scrumptious. I remember that I didn't use pork, because I didn't have any. The beef worked out just fine though. Next time I make them, I'll be sure to have some pork. It was a simple meal to prepare and was very satisfying. Thank you for the tasty recipe! I have to come back and add to this. I made this a second time, but tried a different twist. This time, I left out the mushrooms and added some onion and green pepper. I partially cooked the egg noodles, added the vegetables then the mushroom sauce and baked for 30 min @ 350. This is just a variation, but I thought I would include this in the original review and another picture.
Mix meatball ingredients and form into balls.
Brown in fry pan till done, remove meatballs.
Stir into meat drippings the sauce ingredients, cook till well blended.
Put meat balls back into pan and simmer for 30 minutes on low heat.