Meatballs in Hungarian Sour Cream Gravy
Pixie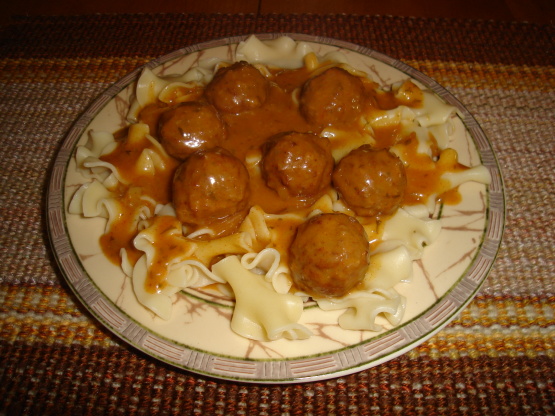 Quick and easy--from start to finish in less than 30 minutes.

This is the exact recipe I've been searching for awhile. I make meatballs in mushroom gravy for x-mas and have tried several different recipes. I think what makes this recipe stand out is the onion soup mix, paprika & worcestershire sauce. I've also tried a variation where I add beef gravy for the water/boullion and mushroom soup or yogurt for the sour cream. Sometimes I will also add dried onions &/or roasted garlic. Amended for cooking in a slow cooker. Great recipe, thanks for sharing.
In a dutch oven, cook onion in olive oil until starting to soften.
Stir in garlic, cook for 30 seconds.
Add 3 cups water.
Stir in soup mix,paprika,soup base and Worcestershire sauce.
Add frozen meatballs.
Heat on medium high heat until meatballs are heated through. about 15 minutes.
Stir in parsley, sour cream and mushrooms.
Mix cornstarch with 1/4 cup water in a small bowl.
Slowly stir in cornstarch mixture a little at a time until you reach the desired thickness.
Remove from heat.
Serve with mashed potatoes or buttered noodles.