Meatballs in Caper Sauce (Konigsberger Klopse)
teresas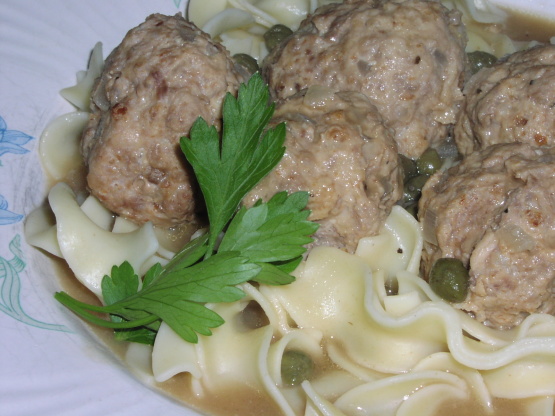 From: The Eastern European Cookbook" by Kay Shaw Nelson. -East Germany. Russians call it 'Kaliningrad'. This is an easy version...all the other versions I've seen posted make a mess of your kitchen.

Despite the fact that I really messed up when planning for this recipe, it still came out very well. I could not find anchovies anywhere at the store, so skipped them. Then as I was cooking, I discovered not only did I not have beef broth, I also did not have lemon juice. I used a packet of onion soup mix with 4 cups water and it seemed to do the trick and the sauce still came out VERY tasty. I skipped out on the lemon juice, having no suitable subsitute. Although I made several subsitutions & skipped some ingredients, still it was very tasty. The only addition I made was to put some garlic into the meatballs. We liked the capers in the sauce. Even my 1 year old son ate them- inhaled them actually, so it was enjoyed all around. Thanks for posting the recipe.
Meatballs

1 1⁄2 cups stale bread cubes
milk, to soak bread cubes

2

lbs ground lean meat (mixture of pork and veal or beef)

1

large onion, peeled and minced

2

eggs, beaten

3

flat anchovy fillets, drained and minced
salt and pepper, to taste

Sauce

4

cups beef bouillon

3

tablespoons flour

1

lemon, juice of (about 1/4 cup)

3

tablespoons capers, drained
Meatballs:
Soak bread cubes in milk to cover. When soft, squeeze dry and put in a large bowl.
Add ground meat and mix well.
Stir in onion, eggs, anchovy fillets, salt and pepper; work mixture with hands until well combined.
Form into 2-inch balls.
Bring bouillon to a boil in a large saucepan; drop in meatballs.
Cook over medium heat until meatballs rise to the top, about 15 minutes. Remove from liquid with a slotted spoon and keep warm.
Strain and reserve liquid.
Sauce:.
Melt butter in a saucepan.
Stir in flour and blend well, cook 1 minute.
Gradually add 3 cups strained liquid; cook slowly, stirring constantly, until liquid is thickened and smooth.
Add lemon juice and capers. Season with salt and pepper.
Add meatballs and heat through.