Meatballs in Buttermilk Sauce
Boomette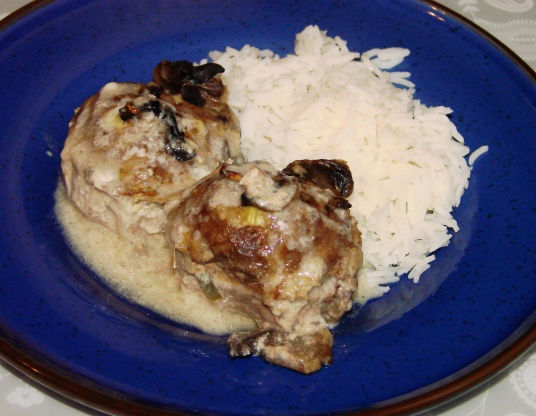 Clipped from a January 1998 issue of the Houston Chronicle, these baked meatballs are easy to make and kid-friendly. Serve with mashed potatoes, rice or noodles topped with the yummy gravy!

We enjoyed this dish. I used ground turkey and omitted the green pepper. I did not have jarred mushrooms, and sauteed fresh mushrooms instead with a lid to keep the juices. I made 1/2 a recipe of the meatballs but kept the sauce the same and we did not have a whole lot extra, so if you are inclined to up the sauce amount do not hesitate. I served over noodles.
Preheat the oven to 350 degrees. Finely chop the bell pepper and celery.
Combine the ground beef, bell pepper, celery, rice, salt, pepper and egg in a large bowl; mix with your hands until well mixed. Divide into 12 equal portions and roll each into a ball. Place the meatballs in a greased 2-qt casserole dish.
Combine the mushroom soup, buttermilk, and the liquid from the jar of mushrooms. Beat until smooth.
Sprinkle mushrooms over meatballs. Pour the sauce over all. Bake at 350 degrees for 1 hour.