Meatballs for Stocking up Freezer
Nif_H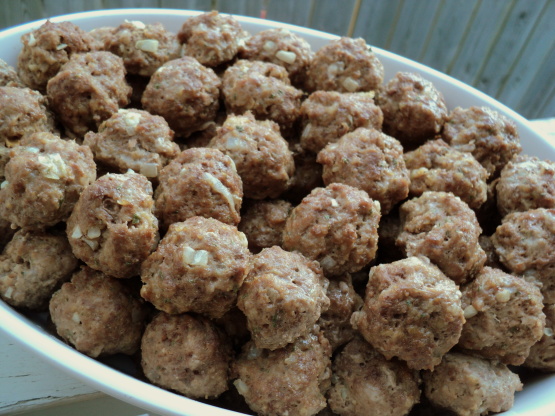 Make and add to various recipes... like tator tots, drained green beans, and cream of mushroom soup. We love that and so easy! Meatballs are good with leftover beef gravy and mashed potatoes, too. I freeze portions in separate zip lock bags, defrost, and have an easy supper. I am guessing at the exact servings-I can eat 5 or 6 meatballs. I use my oven to brown my meatballs-lazy me- but you can do it on top of your stove if you prefer. And if you want to make a sauce -try 1 envelope brown gravy mix made up, mix in 1/2 cup sour cream, and dash each of nutmeg and pepper.

Top Review by Nif_H
I made this recipe exactly as listed and it's great! They are not greasy at all - I used low fat pork and lean ground beef. I used a cookie dough scoop and made 112 meatballs! These are going to be used in spaghetti and meatballs tonight and 3 more meals for the 4 of us in the future. Made for Went To The Market tag game. Thanks WiGal! :)
Preheat oven to 400 degrees.
Mix all ingredients in huge container (I use my roasting pan).
Shape into balls about the size of a walnut.
Line cookie sheet with foil, put 12-15 onto cookie sheet, and bake at 400 degrees for 12 minutes or until browned-check after 6 minutes to see if they need turning.
Drain on paper toweling.
Label your zip lock bags.
Portion out to what your family needs in a zip lock bag. (You might want to use one batch for your supper tonight.:).
Later defrost 24 hours ahead in your refrigerator.