Meatballs Casserole With Green Beans
loof751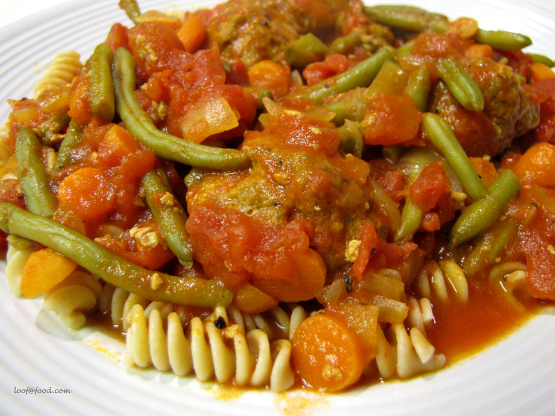 Meatballs recipe inpired by the maroccan recipe of My Lubia Chala With Kefta My Lubia Chala With Kefta By ElizabethAuthorAKAHajar

I did change this recipe up a bit, but it was very good! I used all the spices you listed in the recipe, but also added a little bit of cumin seed pepper flakes, and cinnamon (I love that combination in meatballs), and cooked everything on the stovetop. All in all, a very nice weekday recipe, thanks for posting! Made for January NA*ME Tag.
Fry onion, add all the other ingredients and cook covered for 20 minutes.
In the meanwhile mix all ingredients for the meatballs together and shape a dozen of balls.
Cook your meatballs in a casserole with the grill of your oven until they are brown, but not black! This takes about 10 Minutes.
Top your meatballs with your vegetables and continue to cook for half an hour covered at low temperature.
Stir in lemon.
Serve with preferably with flatbread or couscous.