Meatballs and Mixed Peppers
Bergy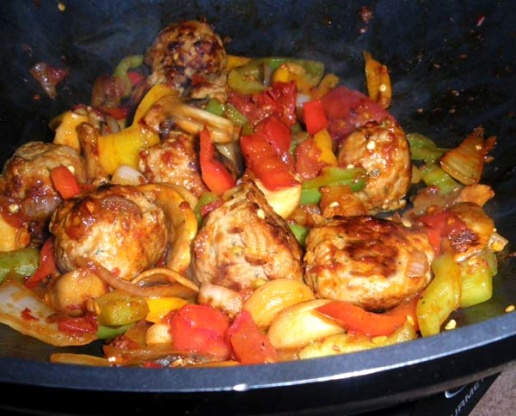 This is a very simple recipe that I threw together one night -it was a kind of "clean the fridge" event. Then I made it again a couple of weeks later and decided that I would post the recipe because I don't want to foget what I put in it! I took meatblls right out of the freezer - they are small ones. Use as many or as few as you like - cooking time will depend on the size and if they are fresh or frozen This is a quick & easy recipe Instead of Sambal Olek use your favorite hot sauce

This was so EASY and tasted great. It was perfect for a busy night & utlized things I had on hand. We loved the mushrooms & green peppers in this. I only added half of the sambal to the pan as DH doesn't tolerate spicy. I added more to my portion at the table. Yum! I served with your Recipe #222271 and a green salad. Thank you for sharing a wonderful one skillet meal!
Lightly spray a large skillet and brown the meat balls.
Add remaining ingredients and stir fry for apprx 10 minutes.
That's it! serve.