lets.eat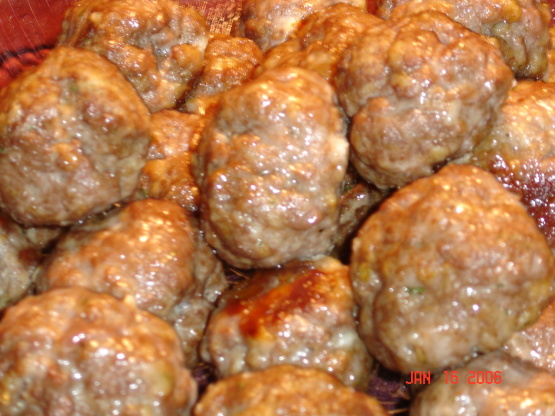 This is my Dad's recipe. These are the best meatballs I've had and the house smells wonderful while cooking.

I made these meatballs for supper one night.They were teriffic!!I did'nt have time to cook them in a crock pot so I simmered them in a skillet with spaghetti sauce after I browned them first.I let them simmer for about 2 hours on low heat and they were great.Served with noodles and a green salad and garlic bread. Can't get better than that!!!
Mix all ingredients together with hands.
Roll into balls.
Microwave in a single layer on a plate for 5-6 minutes per side or cook in a frying pan just til browned on the outsides.
Put meatballs in a crockpot with 2 jars spaghetti sauce for 2-3 hours on high or 4-6 hours on low.
Serve over your favorite pasta or in hoagie rolls with melted cheese on top.