Annacia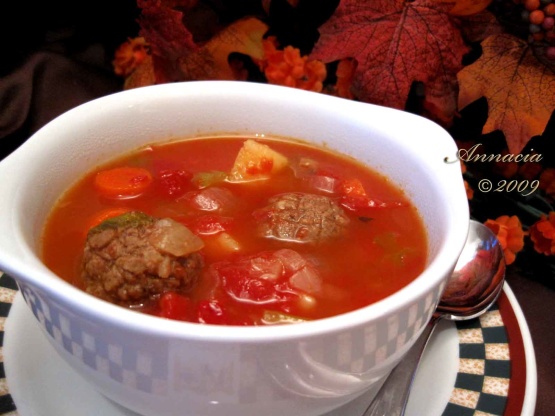 This is an old family recipe from my husband's Swedish grandmother. I don't know if it's Swedish, but it's good.

Terrific vegetable soup! Even DH had seconds and thats almost unheard of for anything! I'll fess up to using veggie "meatless"balls that I keep almost all the time in the freezer and veggie broth. Loved the tomato-veggie broth and the fresh vegetables. I didn't add any salt and neither of us thought it was needed. 5 stars from DH and I so I guess thats 10 stars. Made for Photo Tag.
For soup, add all ingredients to Dutch oven.
Boil for 30 minutes.
Make meatballs: Mix all ingredients and shape into 12 balls.
Refrigerate 30 minutes and then drop into boiling soup and simmer 10 minutes.