Kim M.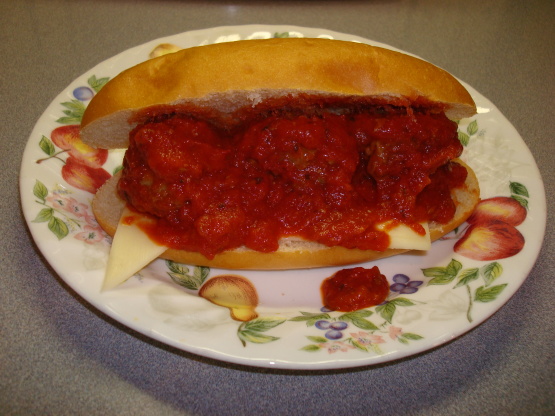 Super easy meatballs served as a meatball sandwich.

This was great and super quick! My very picky husband loved it! Instead of putting it on a hoagie, I bought a loaf of (split length wise and pre-buttered) garlic bread from my grocery store. I cut the loaf across the middle, so I now had 4 pieces. I hollowed out the center of the two top halfs of the loaf (leaving the buttered part intact) and put some provolone on the bottom side halfs. I broiled them on a cookie sheet. I then dropped/pushed 3 meatballs into each hollowed out portion. I put the rest of the sauce in a bowl for dipping. Needless to say, the subs were HUGE! We will be making this again!
Preheat oven to 375 degrees. Combine meat, cracker crumbs, egg and pepper. Shape into 12 meatballs. Place in 15x10x1 inch baking pan sprayed with cooking spray. Back 20 minutes or until meatballs are cooked through.
Pour spaghetti sauce into microwaveable bowl. Microwave on high 2 or 3 minutes or until heated through, stirring after 1 1/2 minutes.
Add meatballs to the spaghetti sauce in bowl; toss to coat. Spoon 3 meatballs and 1/4 sauce onto bottom halves of split bread rolls, sprinkle with 2 T. cheese.