Meatball Soup (Supa Cu Perisoare)
Dotty2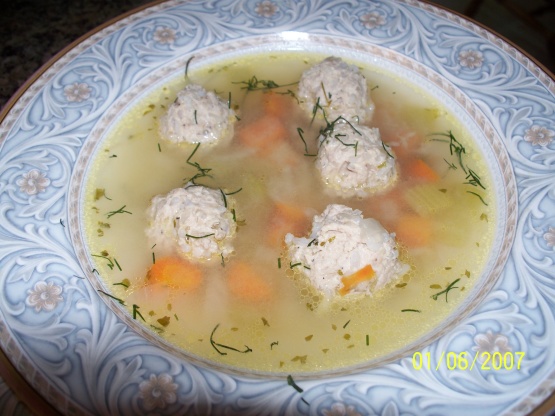 Recipe from one of my favourite fund raiser cookbooks - the kind that has members share their best recipes. This recipe from their 100th Anniversary Cookbook put out in 2002. Have made this with the very lean ground pork - have also made it with lean ground beef - both were equally delicious! Am very partial to parsnips so if there are left overs they are mine - all mine! A hearty soup perfect for a light lunch or evening meal.

Top Review by Dotty2
Loved it! Loved it! A few simple ingredients and ease of preparation turns this into a hearty soup perfect for any day of the week for family and guests alike. I did add a bit more dill and lemon juice ( personal taste) I served it with recipe#402137 which made for a great meal. A recipe I will have close at hand to serve to my guests . Another of Gerrys wonderful recipes.
Stock:bring water to a boil and add the chopped vegetables. Lower the heat to medium and cook until partly done. Add salt and pepper to taste. ( I do a bit of tweaking - I saute the onions and celery in a little oil - then add in the rest of the vegetables stirring for several minutes before adding the water and bringing to a boil.) then follow through to lowering the heat to medium and cooking until partly cooked.
Meatballs:Mix all the meatball ingredients and form into 1 inch balls.
Drop meatballs into the stock mixture.
Add dill, parsley and lemon juice.
Cook for 1/2 hour or until meatballs are done.