twissis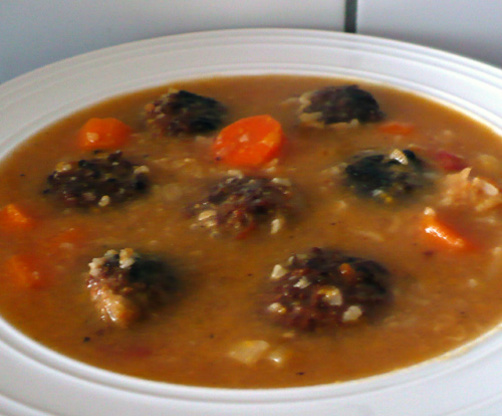 This recipe came from the TACA website and is gluten-free. It is also low in sodium. Very easy to make meatballs in advance and freeze them. Sometimes I only use half the meatballs from this recipe, and freeze the other half for another soup recipe. Great way to use the left over rice from Chinese take-out!

Made almost entirely as written for the My 3 Chefs event except for the addition of leek at the end. I used meatballs from my freezer & leftover rice, so this was a very fast fix for our lunch today. This is a good meal-in-a-bowl that is ingredient & family-friendly. It is basic, invites pers pref chgs & can be easily expanded to include leek for a mellow onion flavor as I did, garlic or even other family-favorite veggies. With meatballs & their favorite veggies, kids will think it is a treat for them vs something healthy. Thx for sharing this recipe w/us.
Mix meat with spices. Roll into small balls the size of your thumb.
Add oil to skillet and saute' meatballs.
Chop carrots 1/2 inch thick. Leave juice in pan, add 1/4 cup of water. Add carrots to pan, cover and cook until carrots are tender.
Heat broth in stock pot. Add rice, meatballs, carrots and juice from pan. Stir and eat!