gailanng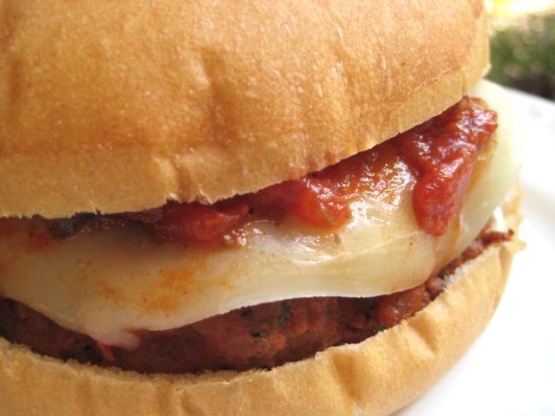 These sandwiches are delicious! My family raved about them. I will be making these often. I got the recipe from Rachael Ray magazine.

Sooooo good! Husband loved them, I'm definitely making this one again!
Heat a large skillet or griddle pan over medium-high heat.
In a large bowl, combine the meat mixture, breadcrumbs, parsley, pecorino-romano, egg, garlic, onion, milk and sage; season with nutmeg, salt and lots of pepper.
Form the mixture into 4 patties (thinner at the center and thicker at the edges for even cooking).
Drizzle the burgers all over with a liberal amount of olive oil.
Place in the hot skillet and cook, turning once, for about 10-15 minutes.
Top each burger with 2 slices of provolone and tent with foil to melt.
While the burgers are cooking, in a medium saucepan, heat the tomatoes.
Stir in the basil and oregano; season with salt and pepper.
Place the burgers on the roll bottoms; then top with the sauce and roll tops.