Meatball and Ravioli Soup
lazyme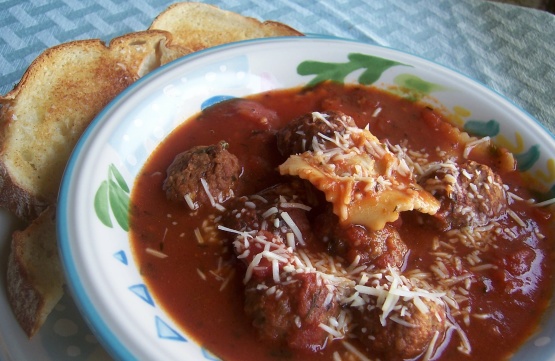 This is a simple soup that is very versatile. It goes together quickly, but you can also use frozen meatballs to make it even faster. I love to empty the refer and throw all kinds of veggies in this also, so it comes out different every time. I think that it has a bit of a tomato-y flavor made as directed, so I cut back a little on the tomato paste. From Elegant Meals with Inexpensive Meats.
Meatballs

1

egg

59.14

ml soft breadcrumbs

59.14

ml parmesan cheese, grated

3.69

ml onion salt

1

garlic clove, mild

453.59

g ground beef, extra lean

Soup

14.79

ml olive oil

1

large onion, finely chopped

1

garlic clove, minced

793.78

g tomatoes

59.14

ml tomato paste

389.80

g beef broth

118.29

ml dry red wine

236.59

ml water

2.46

ml sugar

2.46

ml basil, crumbled

1.23

ml thyme, crumbled

1.23

ml oregano

340.19

g cheese ravioli, frozen, thawed

59.14

ml fresh parsley, chopped
Meatballs:.
Lightly beat 1 egg; mix in rest.
Shape into 1-inch meatballs.
In a 6-quart Dutch oven, brown meatballs carefully in heated oil.
Mix in onion and garlic and cook about 5 minutes, taking care not to break up meatballs.
Add tomatoes and their liquid, tomato paste, broth, wine, water, sugar, basil, thyme and oregano.
Bring to boiling; reduce heat; cover and simmer 30 minutes.
Add ravioli and cook, covered, at a gentle boil for as long as specified on ravioli package (10-15 minutes), until ravioli are just tender and no longer taste starchy.
Salt to taste; stir in parsley.
Serve with cheese to sprinkle over the thick soup.