Meatball and Macaroni Stew (Low Fat/Low Cal)
Derf2440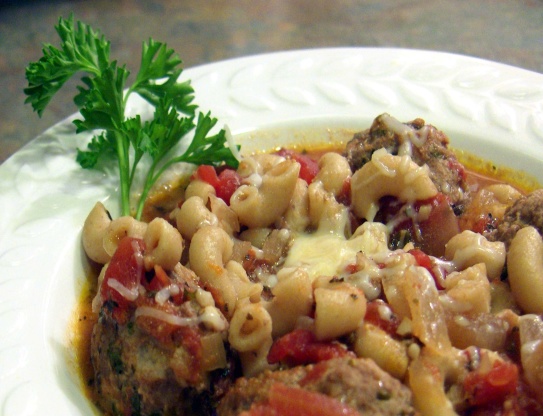 I think this came from Cooking Light originally. It is very rich tasting and filling. I usually make about 40 tiny meatballs instead of 18 big ones. Each cup has 168 calories, 12.6 g protein, 4.3 g fat, 21.3 g carbohydrate, 21 mg cholesterol, 445 mg sodium

I just made this stew and it was pretty tasty. I really enjoyed the flavor of the stew base itself. I used ground turkey breast instead of sirloin for the meatballs and found that the amount of parsley called for completely overpowered them. I will be making this again but I will definately use less parsley. All together this is an excellent recipe.
Combine muffin and milk in large bowl; stir well, and let stand 5 minutes or until liquid is absorbed.
Add beef, parmesan, parsley, pepper, salt, and egg white and stir well.
Shape mixture into 18 1-inch meatballs; cover and set aside.
Coat a dutch oven with cooking spray; heat over medium til hot.
Add onion and garlic; saute 10 minutes until tender (I usually add a bit of chicken broth too so it doesn't dry out).
Add basil, oregano, bay leaf, and cook 1 minute.
Stir in tomatoes, chicken broth, wine, sugar, and salt; bring to a boil.
Add meatballs; reduce heat and simmer, uncovered, 15 minutes or until meat is done.
Discard bay leaf.
To serve, stir in macaroni.