Annacia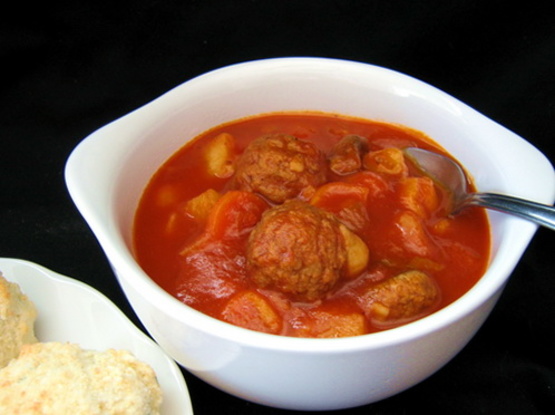 From Taste of Home Healthy. One serving (1-1/2 cups) equals 191 calories

Marvelous soup. I used previously made meatballs that I had frozen (about an inch in size) and added fresh mushrooms that I had with small shell pasta. As we like thick soups in the winter I let it simmer on min heat for a couple of hours and it's delicious :D. Made for Photo Tag.
In a bowl, combine the first five ingredients. Crumble turkey over mixture and mix well. Shape into 1/2-in. balls. In a nonstick skillet, brown meatballs in small batches over medium heat until no longer pink. Remove from the heat; set aside.
In a large saucepan or Dutch oven, saute the onion, celery, carrots and potatoes in oil for 5 minutes or until crisp-tender. Add garlic; saute for 1 minute longer. Add the broth, tomatoes, tomato paste, parsley, basil and thyme; bring to a boil. Add pasta; cook for 5-6 minutes. Reduce heat; add meatballs. Simmer, uncovered, for 15-20 minutes or until vegetables are tender.