sheepdoc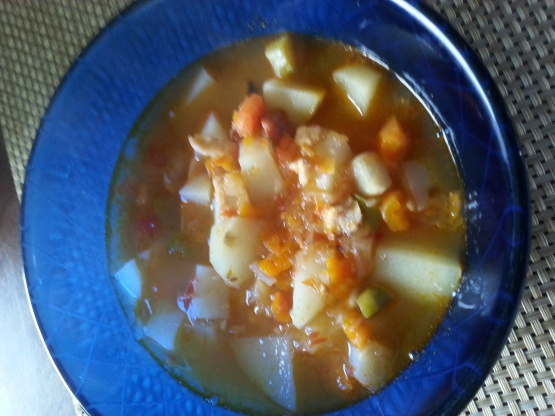 A russian soup with a sweet, salty, sour base due to various ingredients, this one has mushrooms and meat

This was tasty. The bacon was a big plus. Soup with pickles is outside my norm. I had some trouble with the directions - what kind of sausage? - I went with regular pork sausage. What kind of pickles and how big - around here, pickles are everything from the cucumbers that are the right size to make pickles from, sweet, bread and butter, dill, hot sweet, etc. I chose 3 large dill spears. Tomato puree? I had a bunch of fresh tomatoes on the counter so I threw them in the food processor. Fresh herbs? Nothing I had seemed appropriate. I seasoned with some celery salt and pepper. Turned out pretty good. Made for CG 14.
cut up the meat, dice the onions and.
cut up mushrooms and carrots into bite sized pieces.
cut potatoes into cubes.
Fry the meat until it starts to brown.
Add mushrooms, onions and carrots, stir and cook 5 minutes.
Add tomato puree and stew for 3-5 minutes.
Cut up pickles and add to mixture.
Add 1 1/2 liter of water to pot. Cook covered for one hour on medium heat.
Add the herbs and leave for 5 minutes.
Serve with a slice of lemon, a few olives and sour cream in each bowl or plate.