NELady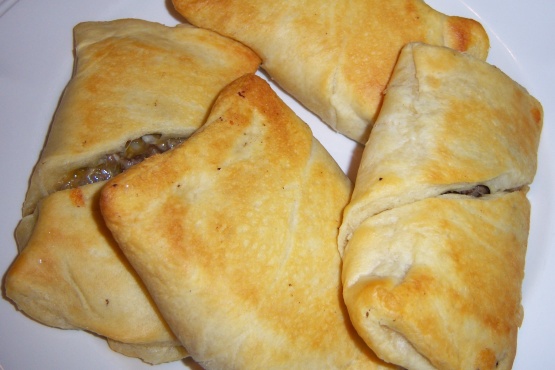 These roll-ups remind me of my childhood as my mother used to make these for us when I was a kid. Consequently, these are one of my quintessential comfort foods! Great for a party or to snack on anytime or as part of a tapas-type meal. They freeze very well and can easily be pulled out of the freezer even for just a small personal snack (I included reheating directions below.) Enjoy!

Top Review by NELady
These were tasty and easy to put together. I pinched two triangles of the crescent rolls together to make rectangles (just easier for me to fill). I followed the recipe exactly as directed other than changing the shape of the roll-up - AND I also only made 1/3 (one crescent roll package) of recipe as I was only feeding two of us. Fun finger food I would make occasionally or for a party. Made for Newest 'Zaar Game, 1/21/09 - NELady.
1

lb lean ground beef

1

(1 1/3 ounce) envelope onion soup mix (such as Lipton's)

1

cup grated cheddar cheese

3

(8 ounce) packages refrigerated crescent dinner rolls
Begin to brown ground beef in a large skillet. Once a little moisture has come out of the beef, stir in the onion soup mix and continue until all the meat is browned, over medium-high heat. Make sure ground beef is crumbled to small pieces well.
Remove from heat. Drain off any excess fat. Stir in cheese until melted and well combined. Set aside to cool.
Preheat oven to 375-degree F.
Loosely roll out the crescent dough as directed on package. Cut each crescent in half (into 2 triangles), creating 16 triangles from each package.
Place a heaping teaspoonful of the beef mixture onto each triangle's center. (The beef mixture only needs to be cooled enough so that you can handle it with your fingers.).
Roll each triangle to enclose. Tuck dough points under, pinch to close any openings, and place that doughier side down onto ungreased cookie sheets.
Bake about 11 minutes, flipping over about 5 minutes into bake time, careful not to burn bottoms. Serve warm or let cool and freeze.
To serve after freezing: No need to thaw - Warm in preheated 325-degree F oven for 10-13 minutes.