Noo8820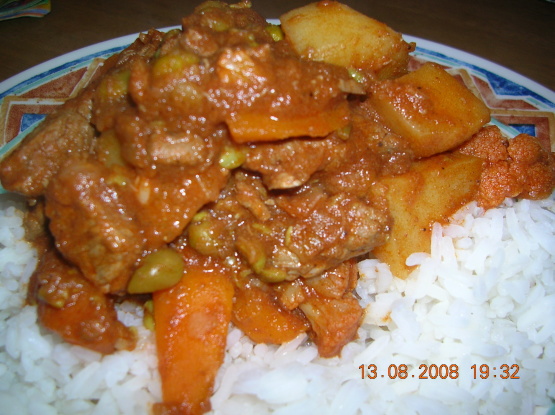 Hot and fiery, but easy to cook. The addition of the vegetables halfway through cooking makes this almost a one pot meal. This can be made using beef or lamb.

This is a good tasting curry that is SO simple to make.I made mine using beef,and I only used half of the carrots,making up the difference with cauliflower (we love curried cauliflower!).Just make sure that you cut the veg fairly small or it will take an age to cook,and who wants to wait that long when there's a good curry to be eaten? Thank you Brian,I'm off to investigate more of your delights!!
Melt the butter in a large pot and fry the meat to seal it. Remove the meat from the pot and set aside.
Fry the onion with the garam masala and chili powder till the onion is golden.
Put the meat back in the pot with the tomato puree and the cardamoms. Stir and cover the pot with a close fitting lid reduce the heat to low and cook for 30 minutes stirring from time to time. If the curry looks too dry add a little water.
Add the vegetables, salt, lemon juice, and the water; bring to the boil, reduce heat and simmer till the meat and vegetables are tender.
Serve with plain boiled rice and a dish of dhal.