gailanng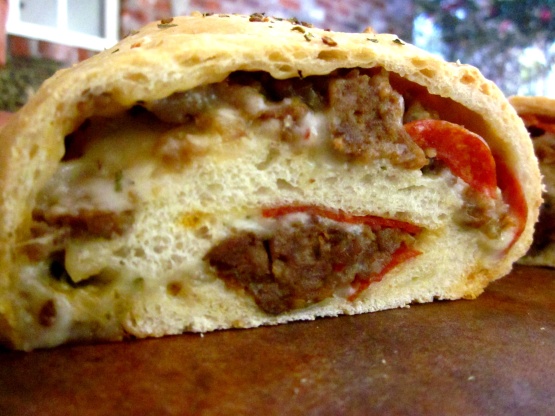 I created this recipe for my sweet husband. His favorite thing to order from a local pizzeria is their family sized stromboli. This is our version. This recipe makes two large strombolis and could feasibly serve four people, or one hungry husband for two days. You could make the pizza dough, but I buy it pre-made for convencience sake.
2

(782.44 g) canrefrigerated pizza crusts

Toppings

226.79

g of sliced pepperoni, divided

453.59

g bulk hot sausage, cooked and drained (recommend Jimmy Dean)

828.06

ml mozzarella cheese, and provolone shredded cheese mix divided

118.29

ml parmesan cheese, divided
Italian herb seasoning, blend
pizza seasoning (optional)
olive oil, for brushing
Pre-heat oven to 350 degrees.
Sprinkle a little flour on your work surface.
Roll pizza dough into a 10x14 inch rectangle. Be careful not to roll too thin.
Cover the rectangle with layers of the toppings - pepperoni, sausage, cheese blend, parmesan cheese, italian herb seasoning to taste, pizza seasoning to taste, garlic powder to taste, red pepper flakes to taste. Be sure to leave a 1 inch border around all the sides.
Starting at the end closest to you, roll the stromboli into a log (my husband says the pizza place does it like a jelly roll).
Seal the dough by pinching firmly with fingertips on sides and ends.
Cover baking sheet with foil, brushed lightly with olive oil.
Place stromboli on prepared baking sheet. Make sure seam of stromboli is on the bottom.
Use a pastry brush to apply olive oil to top of strombolis.
Place on center rack of oven and bake for 20 minutes.
Carefully remove from oven and let rest for 5 to 10 minutes.
Slice with serrated knife.