Meat Lovers Cheating Lasagna
DeniseBC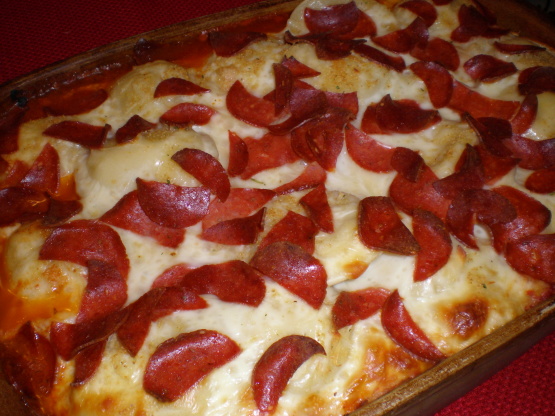 Easy 6 ingredient Triple meat (pepperoni, sausage and hamburger) lasagna made easier by using frozen cheese ravioli instead of the noodles & ricotta mixture. Tastes just like regular lasagna but much better with the meat combination. A must if you are a meat lovers pizza fan. (and fabulous even if your not). A wonderful new spin on lasagna that I just threw together for a birthday dinner.

this was amazing! I invited our best friends over for dinner and made a double batch of this knowing we would love it and want leftovers. I baked it in Wiltons sheet pan and it was perfect. Had to bake quite a while to become less soupy. All 7 of us LOVED it. Most had seconds. super easy to make although slightly costly after all the cheese and pepperoni in it, but sooo worth it. Surprisingly both my hubs and myself felt it didn't reheat and taste as good as the first round. But man, that first round was awesome! thanks.
850.48

g packagefrozen cheese ravioli

737.08

g jar spaghetti sauce

453.59

g package pork sausage (in the roll shaped package, not links)

680.38

g ground beef

226.79

g sandwich pepperoni (from grocery store deli)

2

medium onions, roughly chopped

9.85

ml garlic powder

709.77

ml mozzarella cheese (1-1/2 bags pre-shredded)
In a large frying pan, cook the sausage and ground beef together with the chopped onions until no longer pink and drain all grease.
Cook ravioli according to package directions (only for about 3 minutes or so I think) Drain and rinse in cold water.
In a 13x9 baking dish, spread a small amount of sauce (just enough to cover bottom) and layer enough ravioli to cover.
Stack the slices of pepperoni and cut them into narrow strips and spread half of it over the ravioli.
Now spread all the meat over that and pour the remaining sauce on top of it.
Sprinkle with 1-1/2 cups mozzerella cheese, then layer the remaining ravioli and cheese and sprinkle all of the garlic powder on it.
Spread the remaining half of pepperoni strips on top of cheese.
Cover with foil and bake at 375* for about 20-25 minutes.
Remove foil and bake uncovered another 10 minutes or until cheese and pepperoni are golden.
Serve with no yeast Beer Bread (recipe# 73440).